The transportation process in
five steps with Better Truckin':
The transportation process with Better Truckin'
In the eyes of the uninformed, transportation may appear simple: goods are loaded and transported from one location to another. However, we've listened to the reality of the transportation industry and understand that the process is much more complex than that.
To understand and address these complexities, we typically describe the transportation process in five stages: Order management, Route planning & optimization, Monitoring & driver app, Invoicing & reconciliation, and Insights. What these stages have in common are the challenges they pose, and with Better Truckin', we aim to assist you as a carrier or freight forwarder in managing them.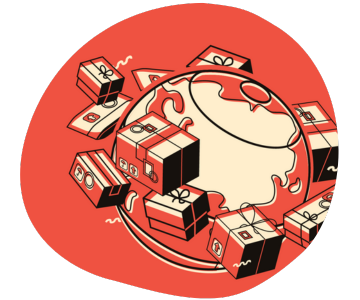 Order management
Better Truckin' streamlines and enhances order management with a user-friendly tool for coordination with both internal and external stakeholders. In one comprehensive system, you can handle new orders, access customer history from past shipments, and provide your customers with status updates about their cargo through the customer portal.
Route planning & optimization
Better Truckin' provides a user-friendly tool for mission planning that takes into account the route and, if necessary, also manages ferry traffic. Furthermore, we simplify collaboration with external partners through guest links for drivers and the comprehensive collaboration solution, My Network.
Monitoring & driver app
Better Truckin' makes it easy to strengthen the collaboration between drivers and administration thanks to monitoring solutions and the driver app. You can easily integrate your fleet management system with Better Truckin', allowing you to monitor your ongoing transports in parallel with status updates from your drivers. Furthermore, the user-friendly driver app enables the uploading of documents, images, and signatures, eliminating time-consuming paperwork for your drivers.
Invoicing & reconciliation
Better Truckin' offers both its own invoicing tool and the ability to integrate third-party systems like Fortnox. In either case, invoicing becomes a smooth process where the invoice basis is created directly from the information about your orders, missions, and customers. We also make it easier to collaborate with external haulage companies and drivers through an automatic settlement tool that reduces the risk of unnecessary misunderstandings and disputes.
Insights
To facilitate the optimization and development of your transport business, Better Truckin' also offers a user-friendly analysis tool. You can easily select the insights you're interested in and compile data about your orders, missions, or drivers to gain an overview of your operations. All of this is aimed at providing you with the best opportunities to grow and create conditions for increased profitability!