FREIGHT FORWARDING WITH
PROFITABLE TRANSPORTS IN FOCUS
A cloud based transport management service that supports you from order to invoicing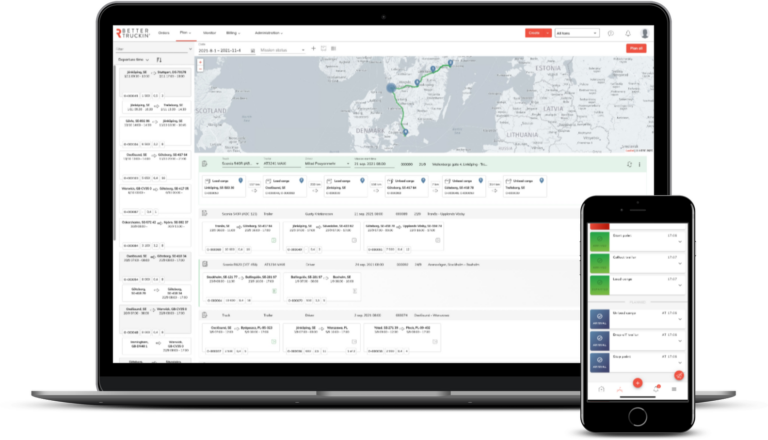 The intelligent service for freight forwarders and carriers
The transport industry is changing. To keep up, a focus on digitization and automation is required.
Better Truckin' helps you increase profitability and streamline your business with the help of automation and smart planning.
A stepping stone for controlled and tactical growth
When you join Better Truckin', you also join MyNetwork. MyNetwork is a marketplace for all connected forwarders and carriers where you can easily buy and sell orders to maximize your own transport capacity. Do business with whom you know, or develop your network and do business with new ones. Through MyNetwork, you obtain a geographical reach and capacity on par with the major shipping companies. A springboard for controlled and tactical growth.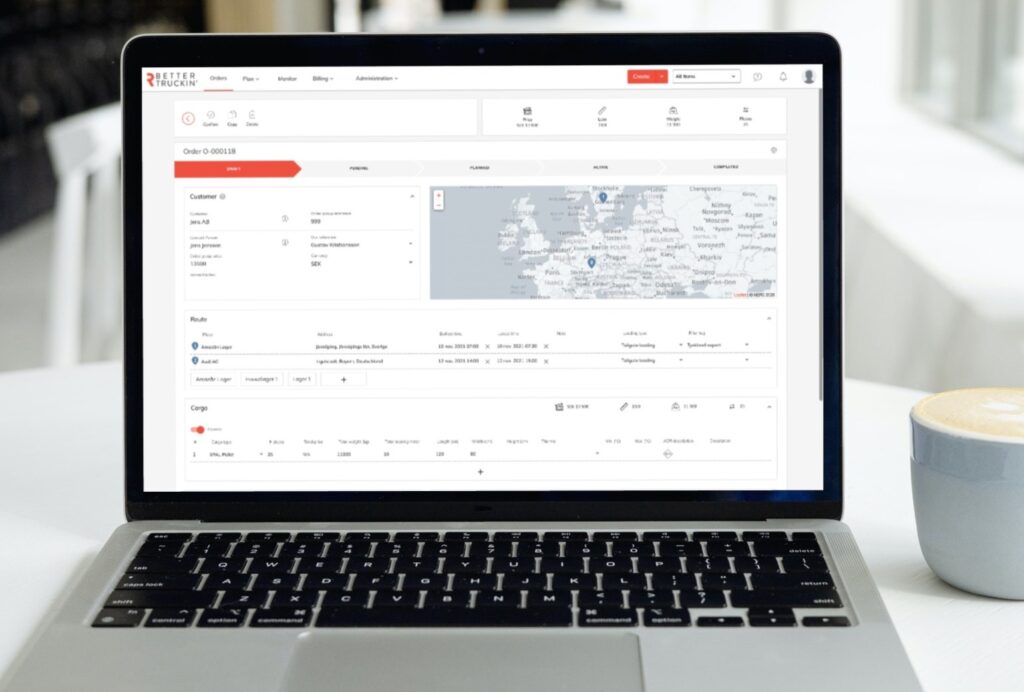 Create orders fast and easy
Better Truckin' is built for speed. You can easily create an order from anywhere in the application and quickly enter the information. Enter the address for loading/unloading to get direct visual confirmation on the map.
Automatic route optimization
To minimize driving distance and thus the cost, you immediately get the most optimal route proposals displayed in the map view. As soon as you drag-and-drop an order into a mission, the route is drawn up. If you group load with multiple stops (LTL), the route proposals are updated every time you add a new order to the mission.
With the help of different filters, you will find what is relevant to you as a dispatcher. You can filter on e.g. Import, Export or specific geographical regions or persons. You always receive a clear summary of key performance indicators for the specific mission.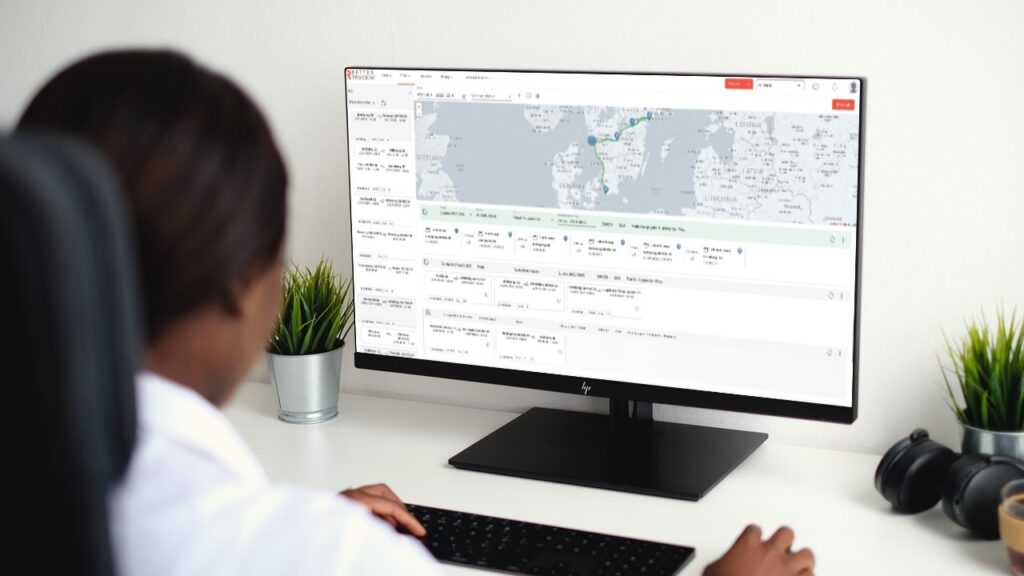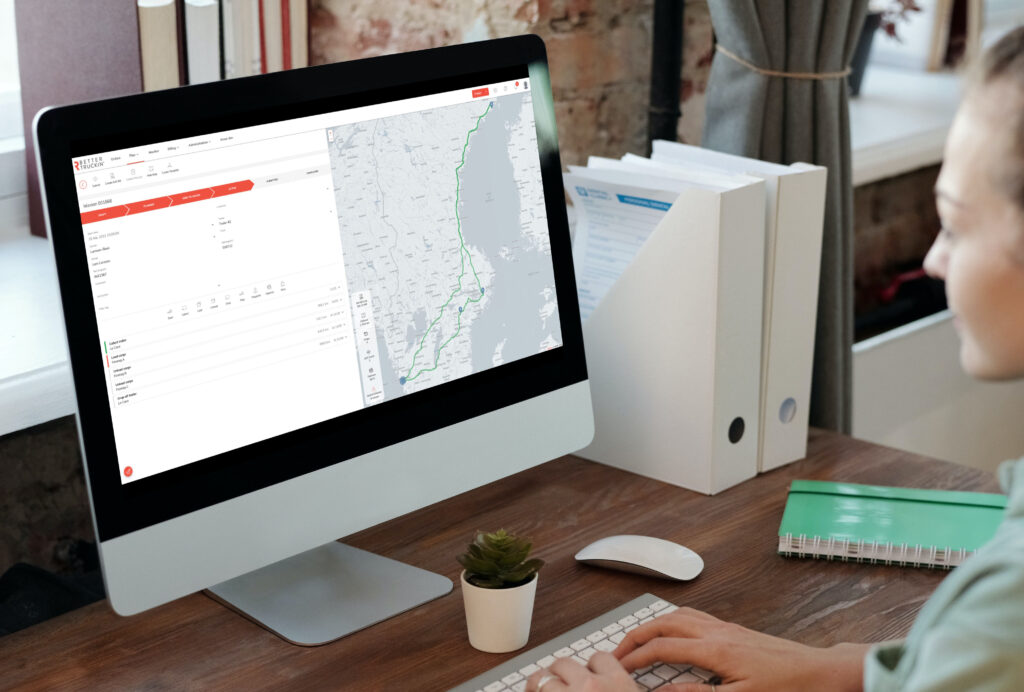 As a dispatcher, you track the mission and status in real-time. You receive warnings if an ongoing mission missed a loading / unloading at the set time and can easily communicate with the driver in the application. With integrated trailer GPS and/or FMS, you also see the real-time position of all trailers and trucks for which you are responsible.
As a dispatcher, you either send the mission directly to the driver, or a unique one-time link to the carrier who forwards it to the driver. When the driver receives the mission, the driver app on his smartphone alerts him that a new mission has been received. The driver then easily clicks through all activities and you as dispatcher can follow the transport step by step in real-time. All communication between drivers, carriers and dispatchers take place directly in the app and the entire dialogue is saved for the mission.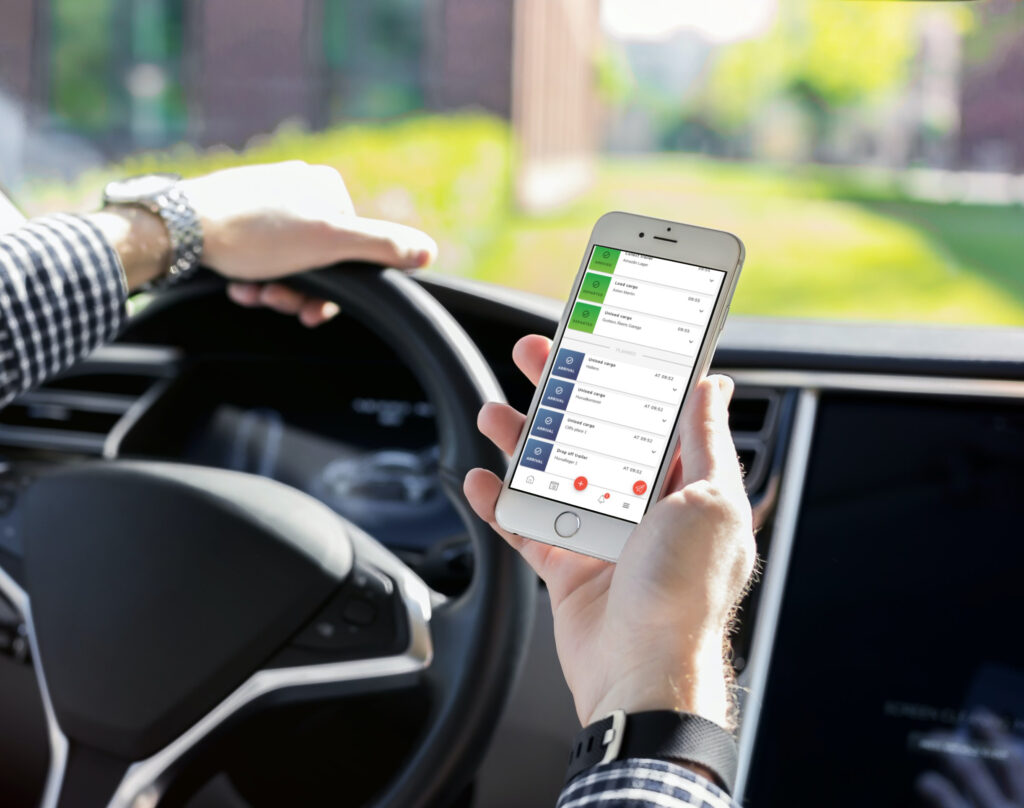 REVENUES, EXPENSES AND PROFIT
Full control of costs and revenues
A healthy balance between costs and revenues is what creates a profitable business. With Better Truckin', you take control over both revenues and costs even before you send the mission to your carrier.
When you build your mission, you see the total revenue for the orders in the mission and when you choose carrier you immediately get the cost for the entire mission. If the profitability is too low, you can regroup orders or choose another carrier for the mission.
When you are satisfied, you send the mission to the carrier and have full control over profitability even before the mission has begun. You have made an active choice and it is such active choices that create a profitable business.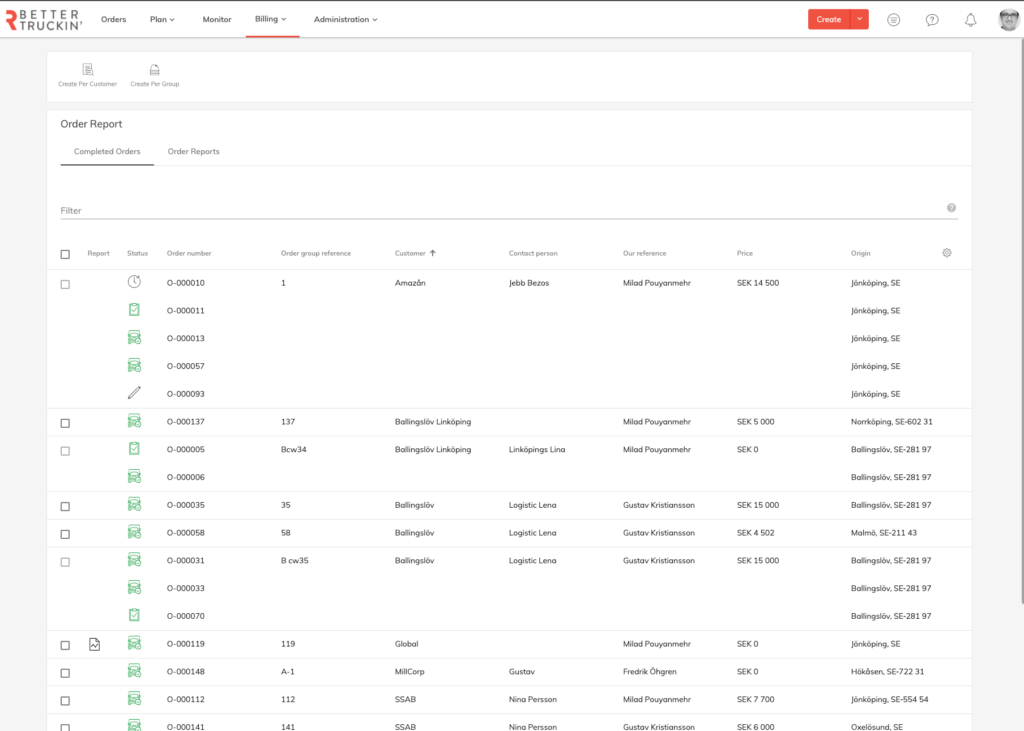 You shouldn't have to spend time on invoicing. Your time should be spent developing your business and keeping customers happy. That's why Better Truckin' have integrations with the most common bookkeeping systems, to automatically create your invoices from inside Better Truckin'. You can easily choose to co-invoice multiple orders for the same customer or to invoice orders individually.
With invoicing through Better Truckin', you avoid the administrative work of manually entering the invoices into your bookkeeping system. Everything is done automatically when you click the "invoice" button. And just like that, you reduce your administrative workload.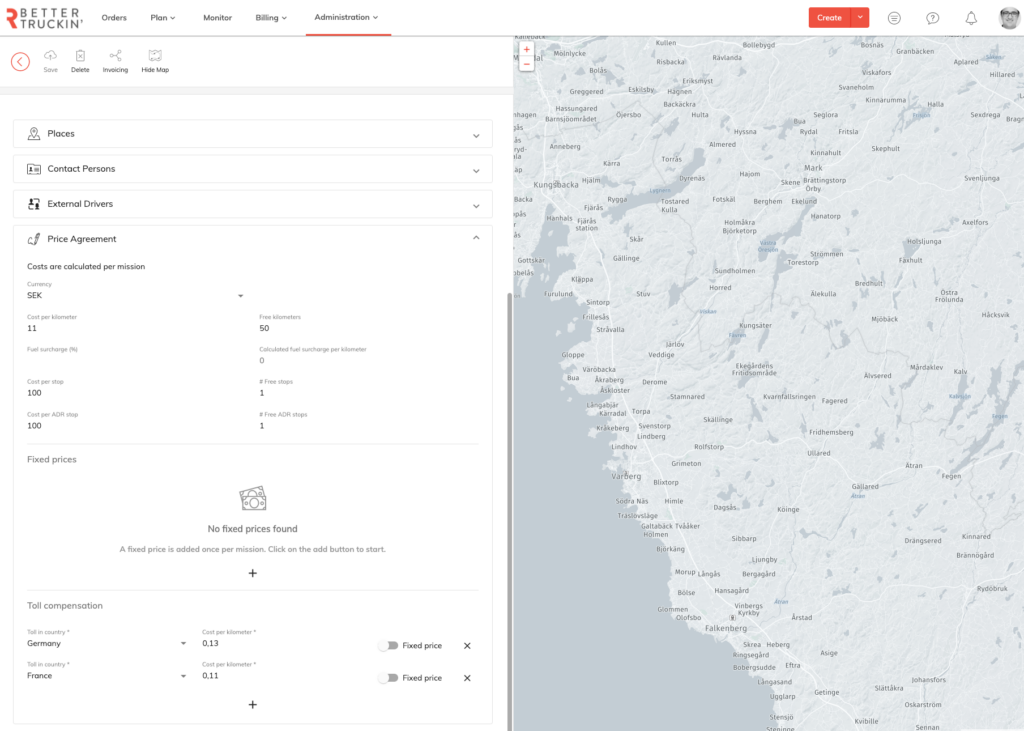 Instant mission-cost per carrier
In Better Truckin ', you can easily enter individual price lists for your carriers. Mileage cost, number of stops, tolls, etc. When you plan a mission and the route is drawn up based on the stops in your orders, you will immediately receive the total mission cost as soon as you have chosen preliminary carrier for the mission.
You can now choose to regroup orders or change carrier to optimize your cost for the mission. When you are satisfied, you send the mission to the carrier and have full control of the cost of the entire mission and for all the individual orders.
When you have planned a mission, you extract a settlement note / self-invoice from Better Truckin' with a single click. All costs are included in the settlement note and Better Truckin takes into account the distance traveled in each country/state as well as any ferries used.
If you are a carrier who contract other carriers, you can easily create a settlement note for your contracted carrier at the same time as you create your own invoice for your customer.
We started the collaboration in March 2022 and have been treated with professionalism and have created a very good relationship. Our ideas and wishes have been received and addressed, which has created a great deal of trust on our part. We look forward to a long cooperation and development together.
I have saved 6-8h per week thanks to Better Truckin'. Work that I used to do manually has been automated and now I can more easily help my drivers when questions arise.
Using the driver app is easy! I can document my work by photographing e.g. loads/trailers and PODs.
Get started with Better Truckin'
book a demo and we will show you how Better Truckin' will reduce your administrative work and accelerate your digitalisation process.
Better Truckin' is a cloud service. This means that we take care of operation and security for the service. Your data is safe with us and you always get the latest features immediately.
Your data is stored within the EU and the service encrypts all your data regardless of how it is handled.
Better Truckin' can be used directly without installing an app on both iPhone and Android phones. Of course, we also offer our app in the App Store and Google Store with extra functions.
Better Truckin' does not require any installation on your computer to work. You use your web browser. We support Google Chrome, Firefox, Safari and Microsoft Edge.
We don't want to lock you in. Therefore, it is easy to switch to and from Better Truckin'. We create a copy of the data you have in your current system and load it into Better Truckin 'so that you keep your historical data. We train you in the service during your ongoing operations and our support is always available to you with short response-time if you have any questions.
Better Truckin' is constantly being expanded with new smart functions that help you automate and simplify everyday life in transportation.